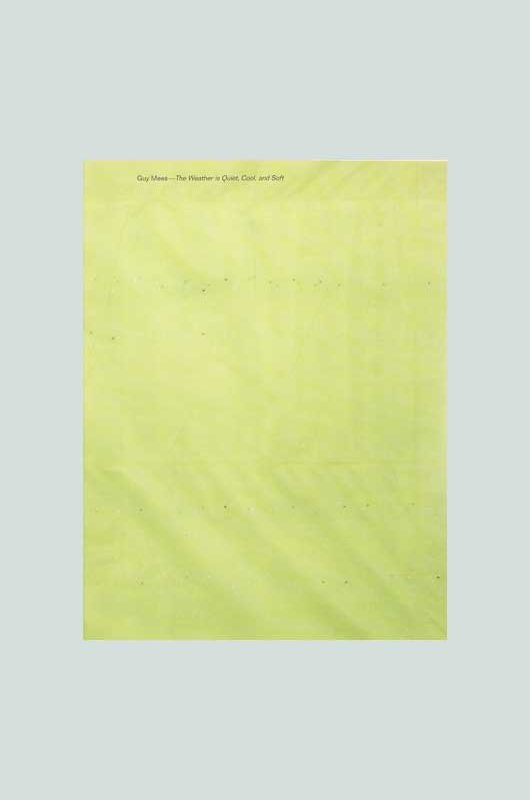 Guy Mees, The Weather is Quiet, Cool and Soft
€25.00
Guy Mees, The Weather is Quiet, Cool and Soft
Published by: Kunsthalle Wien, Mu.ZEE Oostende & Sternberg Press, 2018
English, paperback, 188 pages.
ISBN: 9783956794193
Text by: Lilou Vidal
The late Belgian artist Guy Mees has been a central figure of Antwerp's art scene since the 1970s. This catalogue features emblematic works and unpublished archival materials from the artist's creative phases spanning the 1960s to 2000s; two unpublished essays, and an interview with the artist.
Guy Mees's (1935–2003) photographs, videos, and above all his fragile works on paper are characterized by a formal rigor combined with sensitivity and delicacy. The uniqueness of his oeuvre lies precisely in its avoidance of conventional aesthetics and discursive classifications. A leading figure of the Belgian avant-garde, Mees left behind an outstanding body of work that transgresses geometric abstraction, Minimalism, Conceptualism, and applied art.
Published on the occasion of the eponymous exhibition at Kunsthalle Wien, Vienna, from February 1 to April 8, 2018, and at Mu.ZEE, Ostend, from November 25, 2018, to March 10, 2019.